Payroll Services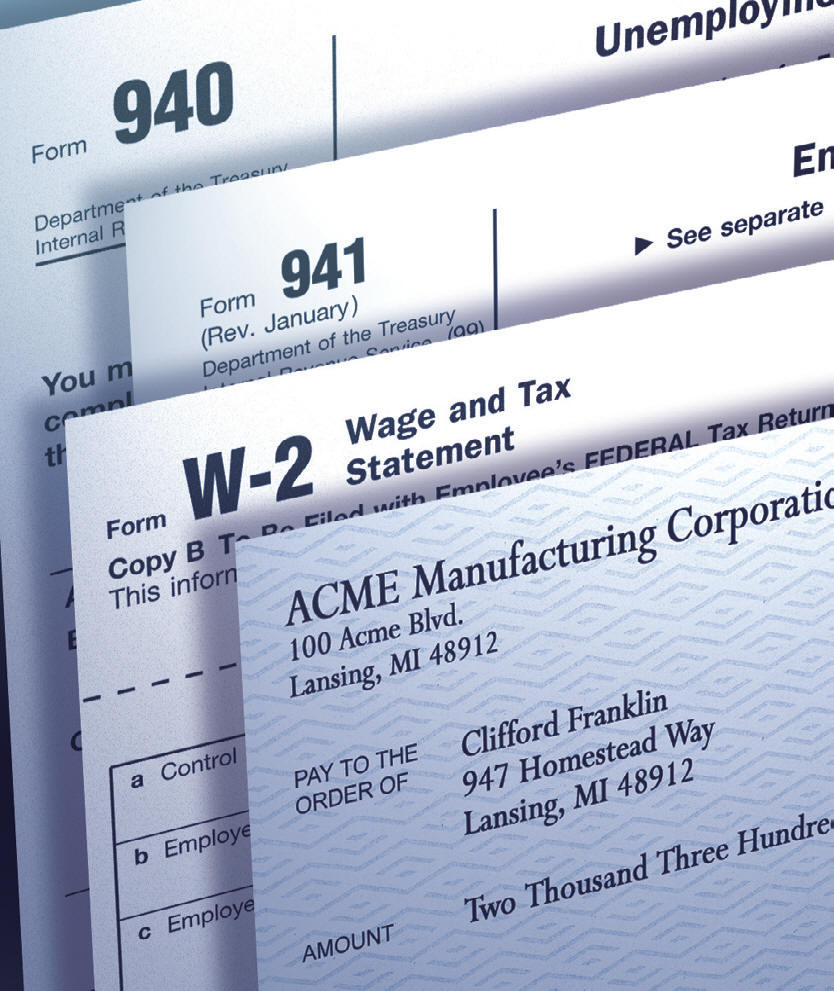 We offer professional full-service payroll to small businesses at a reasonable price. Best of all, the payroll service can be customized to meet your unique payroll needs and we can also offer a totally paperless payroll system if all employees are receiving direct deposit!
What Are The Benefits of Using Our Payroll Service?
As an experienced payroll provider, our commitment has always been to offer our clients the high-quality services they need to manage their business payrolls. With our professional and personalized payroll service, your business will receive all the capabilities and services provided by the national payroll companies, but with the added benefit of prompt, personal service whenever you need it!
There are many benefits to having your own personalized payroll service. Most importantly, it's about your time. You and your staff can concentrate on growing your business instead of thinking about paychecks and taxes. By letting us manage your payroll processing, you'll no longer have to worry about:
Continuously changing tax laws,

Complex tax reporting requirements,

Using your valuable resources for payroll compliance and reporting, and

The many other burdens that payroll imposes.
What Do We Do For You?
Our complete payroll service supports a wide range of pay types and schedules, and includes check printing, direct deposit, tax filings, complete compliance, employee online portal access and more. Automatic e-mail reminders keep you informed of due dates for tax payments and compliance reports, and you will have online access to all the payroll reports you need to run your business most efficiently. In addition, you also get personalized professional advice on all payroll matters.
Here are just some of the things we do for you:
Create pay stubs for employees on a weekly, bi-weekly, monthly, or quarterly basis

Schedule your federal and state payroll tax payments electronically

File all your quarterly and annual federal and state payroll tax forms electronically (Examples: Forms 940, 941, W-2, and Florida Form RT-6)

FREE direct deposit for all employees

Provide you with convenient summarized real-time payroll information online

Provide you links to download all the required federal and state employer posters

Send you reminder e-mails when:

It's time to submit your employee hourly report,

Pay stubs are available to print online,

Payroll tax payments have been scheduled, and

Payroll tax forms have been filed electronically.
How Much Does the Payroll Service Cost?
We provide all the services above at one FLAT PRICE based on number of employees and frequency of payday schedule starting at ONLY $59.99 per month!
Payroll service bureaus are notorious for their "nickel and dime" charges. They charge you for every single item—whether it's generating a simple re-run, to just printing W-2s. That's not the way we will serve you. We offer a very simple, all-inclusive fee structure for all the services we provide. No extra fees for re-runs, no unexpected extras. Now you will know exactly what your payroll costs will be. While we offer many benefits and a degree of personalized attention that you can't get from any service bureau, our payroll service is also highly competitively priced.
Contact Us for more information
Request An Appointment for Tax and Business Consultation